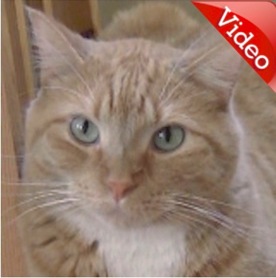 Goldy
Shy Buddy
Male, 2.6 years old

Name Your Adoption Fee - Shy Cat - Level 4
Check Out My Orignial YouTube Video and New Updated Video!
Shy but loveable guy! Goldy is a calm, quiet, independent and shy cat. He enjoys spending time with his other foster buddies. Goldy also likes to have afternoon catnaps on the bed of his foster mom and dad, but when it is playtime in the evening, you will be sure to find him in the middle of the action with all the others.
Goldy has not yet learned that pets can be wonderful, so he will need a lot of patience and love from his new family.
See my profile
Check out our Kitty Cam!
Wonder what the cats at our Adoption Centre get up to while waiting to find their forever homes?

Watch them live now!
See allUpcoming Events
MEOW Adopt-a-thon
MEOW is hosting an adopt-a-thon at our future Adoption Centre. Come on out to meet […]
See Details
---
Meet MEOW Cats at Pet Valu Evanston Towne Centre
Come on out to Pet Valu Evanston and meet some of the cats who are waiting to find adoptive families.
See Details
---
Dear MEOW
The Perfect Addition
Dear MEOW,
After losing Lola three years ago, little Alice was lost without a best friend. I then found shy cat Fin and everything changed.
Read Full Story
The Three Musketeers
Thank you MEOW Foundation for our three lovely angels. They are all settled in and life is good.
Read Full Story