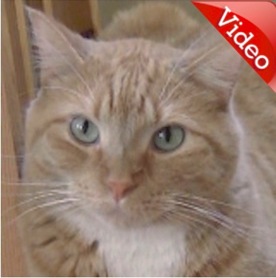 Goldy
Male, 1.8 years old

Shy but loveable guy! Shy Cat - Level 4 Goldy is a calm, quiet, independent and shy cat. He enjoys spending time with his other foster buddies, especially his sister, Lia. Goldy also likes to have afternoon catnaps on the bed of his foster mom and dad, but when it is playtime in the evening, you will be sure to find him in the middle of the action with all the others.
Goldy has not yet learned that pets can be wonderful, so he will need a lot of patience and love from his new family.
See my profile
Check out our Kitty Cam!
Wonder what the cats at our Adoption Centre get up to while waiting to find their forever homes?

Watch them live now!
See allUpcoming Events
Meet MEOW Cats at Pet Planet Country Hills
Come on out to Pet Planet Country Hills and meet some of the cats who are waiting to find adoptive families.
See Details
---
Paint for Paws
Join us for a fun-filled evening of painting and socializing, all benefiting stray and abandoned cats! Instruction provided – no painting experience required.
See Details
---
Dear MEOW
Two Happy Little Rascals
A year has passed since we brought Louis and Cracker home from their respective foster […]
Read Full Story
Merlin Fits New Family's Routine
We adopted Merlin from the MEOW Foundation around the end of April 2013, and he is a great part of our family now.
Read Full Story