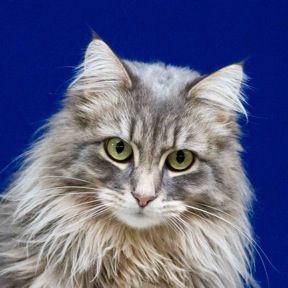 Sabin
Male, 2.6 years old

Surprise! Sabin is here!&nbspSabin was momentarily surprised when his photo was taken, but it did give him a chance to showcase his beautiful eyes. Sabin found a kind soul who gave him a hand with regular meals outdoors for over a year. Sabin loves his room service at MEOW and is eagerly looking forward to a new home who will love and care for him and he will re-pay you one thousand fold with his loyalty and love.
Take Sabin&nbspHome 4 the Holidays!
See my profile
Check out our Kitty Cam!
Wonder what the cats at our Adoption Centre get up to while waiting to find their forever homes?

Watch them live now!
See allUpcoming Events
Meet MEOW Cats at Pet Planet Saddleridge
Come on out to Pet Planet Saddleridge and meet some of the cats who are waiting to find adoptive families.
See Details
---
The Cat House MEOW Mixer
Come on out to Calgary's finest feline store on November 9, 2014 and receive 10% off everything in store (includes cat food).
See Details
---
Dear MEOW
Two Happy Little Rascals
A year has passed since we brought Louis and Cracker home from their respective foster […]
Read Full Story
Merlin Fits New Family's Routine
We adopted Merlin from the MEOW Foundation around the end of April 2013, and he is a great part of our family now.
Read Full Story