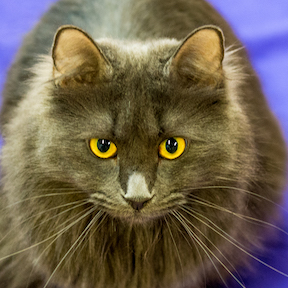 Okey
Fun Family Cat
Female, 1.2 years old

Okey, Dokey, Lokey, Whistokey - kissing cousins. We believe these cats are all related in one way or another and were rescued from a dangerous situation. They were not given the start in life that every cat deserves, so with the help of MEOW volunteers and staff, we are trying to make up for lost time. They had been given food, water and some shelter, but they did not have enough love and attention from significant people in their life. These kitties are all a bit shy, but with a little help from a best friend - you- they should be able to shine.
See my profile
Check out our Kitty Cam!
Wonder what the cats at our Adoption Centre get up to while waiting to find their forever homes?

Watch them live now!
See allUpcoming Events
Meet MEOW Cats at Saddleridge Pet Planet
Come on out to Saddleridge Pet Planet and meet some of the cats who are waiting to find adoptive families.
See Details
---
MEOW Foundation Garage Sale
Join us as we raise funds to renovate our new adoption centre. There will be thousands of items for sale from home décor, appliances, tools and much more.
See Details
---
Dear MEOW
Echo's Strong Bond!
I adopted Belladonna, now Echo, at the beginning of May. We've built up a strong […]
Read Full Story
June Bug the Love Bug!
We still call her June Bug, but Kat decided she really is a Love Bug too, and sometimes Miss Bug. I call her just Bug sometimes cause she loves to get her nose into everything. So Bug being the common denominator.
Read Full Story