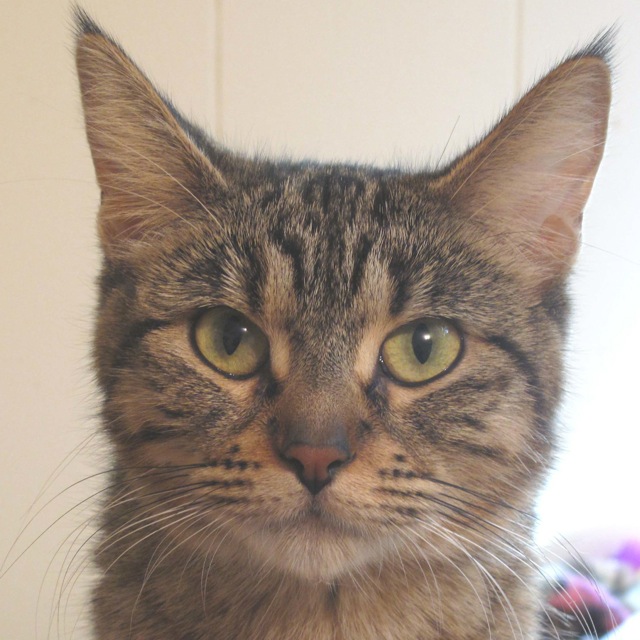 Lillian
Female, 1.2 years old


Looking for your first cat? Well, Lillian is for you. She is sweet. She is very gentle. She likes people and is quite independent. She would be in the room with you telling you all about her day. And she might sit down by you.

She is also a little hero. She saved Niana, Chirpie and Kiwi whose mother died at birth. They were having a medical problem and Lillian stepped in. When she saw them, she accepted them immediately. She took care of them and they became her kittens.

Lillian can't wait to meet you.
See my profile
Check out our Kitty Cam!
Wonder what the cats at our Adoption Centre get up to while waiting to find their forever homes?

Watch them live now!
See allUpcoming Events
Meet MEOW Cats at Pet Valu Shawnessy
Come on out to Pet Valu Shawnessy and meet some of the fantastic MEOW cats waiting to find adoptive families.
See Details
---
Blessing of the Animals
Please join MEOW at the annual Blessing of the Animals service honoring our beloved pets and rescued animals. MEOW will receive a portion of the collection proceeds.
See Details
---
Dear MEOW
Merlin Fits New Family's Routine
We adopted Merlin from the MEOW Foundation around the end of April 2013, and he is a great part of our family now.
Read Full Story
Playful in Seattle
In 2011, I moved back to Seattle, and when people ask me where I adopted Plato, I proudly say, "MEOW Foundation in Calgary, Alberta! That place is the best!" I wish there was a organization as professional, as caring, and as memorable as MEOW here in Seattle.
Read Full Story