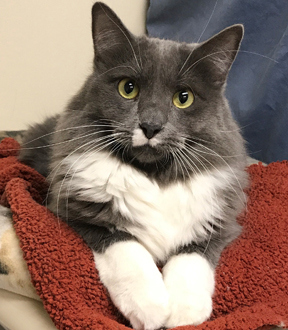 Mouse
Special Needs Cat
Male, 3.8 years old

Adoption Fee Waived - Shy Level 5

Mister Mouse! Mouse is a happy, energetic fellow who comes from a long line of outside cats. He is most likely a third generation street cat. This means that Mouse and the previous generations have not had significant and meaningful social interaction with people.
MEOW and Mouse have had a relationship for three years. Mouse can be quite happy living in a home as a cat companion to a resident cat, but Mouse will never be a lap cat. His special home will need to accept him as he is and be able to provide certain perks for Mouse, such as a house call veterinarian and in-home care when on vacation.
See my profile
Check out our Kitty Cam!
Wonder what the cats at our Adoption Centre get up to while waiting to find their forever homes?

Watch them live now!
See allUpcoming Events
Meet MEOW cats at Country Hills Pet Planet
Come on out to Country Hills Pet Planet and meet some of the cats who […]
See Details
---
MEOW Food Drive at Groomingtails Pet Spa and Day Care
Support MEOW by stopping by Groomingtails Pet Spa and Day Care with food and shelter […]
See Details
---
Dear MEOW
Fitting in Just Fine
Dear MEOW Foundation, Our family adopted 2 cats from the MEOW Foundation in June 2016. […]
Read Full Story
When a Shy Cat Became Rogue
Hello! I realized that it's been about 18 months since we brought Mali home. She […]
Read Full Story