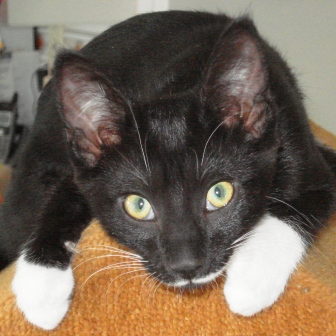 Nata
Female, 4.5 years old

Will purr for love!

Nata has a look of concentrated curiosity. She has a long lean body, silky black fur with white paws and tummy and a distinct "milk moustache".
Nata would like you to know she is looking for the most wonderful pet parents in the world who will provide her with two things:
A home with only people - no other cats please!
A home who will help manage her diabetes - she is beautiful and healthy and only needs her two insulin doses per day......that's not too much to ask in return for Nata's love and loyalty?
Let Nata purr her way into your heart.
See my profile
Check out our Kitty Cam!
Wonder what the cats at our Adoption Centre get up to while waiting to find their forever homes?

Watch them live now!
See allUpcoming Events
Meet MEOW Cats at Pet Planet Country Hills
Come on out to Pet Planet Country Hills and meet some of the cats who are waiting to find adoptive families.
See Details
---
Paint for Paws
Join us for a fun-filled evening of painting and socializing, all benefiting stray and abandoned cats! Instruction provided – no painting experience required.
See Details
---
Dear MEOW
Two Happy Little Rascals
A year has passed since we brought Louis and Cracker home from their respective foster […]
Read Full Story
Merlin Fits New Family's Routine
We adopted Merlin from the MEOW Foundation around the end of April 2013, and he is a great part of our family now.
Read Full Story