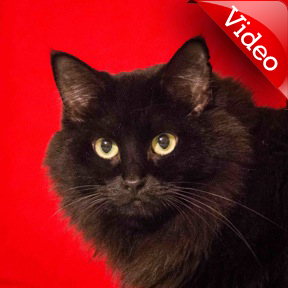 Dream
Female, 2.8 years old

What does Dream dream about? Shy Cat - Level 4 When she was on the street, her dreams were of the survival type. Would she get dinner today? Would that scary dog come out again? Not the most pleasant dreams.
At the MEOW Adoption Centre, Dream has started to have different, much sunnier dreams. Now that she knows breakfast AND dinner will arrive without fail, and that she is safe, Dream has started to dream big. She dreams of her very own family. She dreams that her family will love her and not get mad at her if she acts a bit spooked when they first take her home.
Dream is dreaming about YOU!
See my profile
Check out our Kitty Cam!
Wonder what the cats at our Adoption Centre get up to while waiting to find their forever homes?

Watch them live now!
See allUpcoming Events
Meet MEOW Cats at Pet Planet Country Hills
Come on out to Pet Planet Country Hills and meet some of the cats who are waiting to find adoptive families.
See Details
---
Paint for Paws
Join us for a fun-filled evening of painting and socializing, all benefiting stray and abandoned cats! Instruction provided – no painting experience required.
See Details
---
Dear MEOW
Two Happy Little Rascals
A year has passed since we brought Louis and Cracker home from their respective foster […]
Read Full Story
Merlin Fits New Family's Routine
We adopted Merlin from the MEOW Foundation around the end of April 2013, and he is a great part of our family now.
Read Full Story