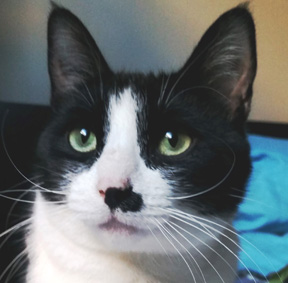 Miss Mimi
Mellow Cat
Female, 1.7 years old

Miss Mimi is a shy girl at first but once she gets to know you – she chats non-stop! She loves to show you her belly and will not hesitate to brush up against your leg for a greeting. She enjoys toy mice and looking out the window on her cat tower. Miss Mimi is a "cat-gamer" and has the highest score on the "Cat Fishing" game! Miss Mimi was mom to 3 kittens but is looking for a home to focus on herself along with her pal, Miss Kiki – 2 purrs-in-a-pod!
See my profile
Check out our Kitty Cam!
Wonder what the cats at our Adoption Centre get up to while waiting to find their forever homes?

Watch them live now!
See allUpcoming Events
Meet MEOW cats at Country Hills Pet Planet
Come on out to Country Hills Pet Planet and meet some of the cats who […]
See Details
---
MEOW Food Drive at Groomingtails Pet Spa and Day Care
Support MEOW by stopping by Groomingtails Pet Spa and Day Care with food and shelter […]
See Details
---
Dear MEOW
Fitting in Just Fine
Dear MEOW Foundation, Our family adopted 2 cats from the MEOW Foundation in June 2016. […]
Read Full Story
When a Shy Cat Became Rogue
Hello! I realized that it's been about 18 months since we brought Mali home. She […]
Read Full Story