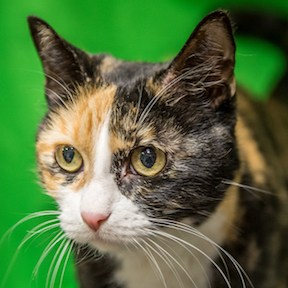 Carmella
Mature Cat
Female, 12.2 years old

Hi my name is Carmella! I'm a little shy when I first meet new people or animals so I look to my brother Diesel for support. When I see that my brother is happy and having fun, I always join in. Diesel is my best friend and I couldn't imagine living somewhere without him. He always looks out for me and I would love to find a forever home where we could be together. I love to sit in the window all day and watch what all the neighbors are doing. I also like following the 3 big dogs at my foster home, but I only interact with them on my terms. And of course, I love cuddling, especially with little human children. They are so cute!
See you soon! I can't wait to meet you!
Bonded Pair. Adopt with Diesel.
*Carmella has been sponsored by nine (9) Christmas Guardian Angels.
See my profile
Check out our Kitty Cam!
Wonder what the cats at our Adoption Centre get up to while waiting to find their forever homes?

Watch them live now!
See allUpcoming Events
Meet MEOW Cats at Pet Valu Evanston Towne Centre
Come on out to Pet Valu Evanston and meet some of the cats who are […]
See Details
---
Meet MEOW cats at Country Hills Pet Planet
Come on out to Country Hills Pet Planet and meet some of the cats who […]
See Details
---
Dear MEOW
When a Shy Cat Became Rogue
Hello! I realized that it's been about 18 months since we brought Mali home. She […]
Read Full Story
Agatha Celebrates Six Months with Her New Family
Agatha is celebrating 6 months in her fur-ever home. Now that she knows this is […]
Read Full Story