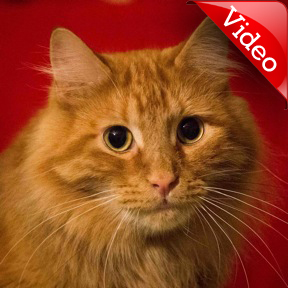 Tim-Tam
Male, 1.4 years old

Biscuit anyone? Shy Cat - Level 3 -&nbspTim-Tam does not know he was named for a delicious chocolate biscuit, but if you are looking for a dose of sweetness, Tim Tam measures up to the mark.&nbspWho could resist those soulful eyes gazing at you.&nbsp Are you Tim-Tam's special match?
Although Tim-Tam was rescued as a younger kitten, he is one of those cats that is still very shy.&nbspTim-Tam's&nbspspecial match would be&nbsppet parents who are experienced, have extra time to work with him&nbspand lots of patience.They will also understand that Tim-Tam may take many months to settle into a new home and will always have a shyer personality.
See my profile
Check out our Kitty Cam!
Wonder what the cats at our Adoption Centre get up to while waiting to find their forever homes?

Watch them live now!
See allUpcoming Events
Clothing Drive Fundraiser
Donate your used clothes & textiles and help raise funds for MEOW. Stop by The Cat House parking lot (Stadium Shopping Centre) from Sept. 15 – 26. View Event Page for times.
See Details
---
Free Wine 'n Cheese at Naughty Nelly
Stop by Naughty Nelly's for a free wine and cheese event supporting MEOW Foundation and check out all of their unique artisan and imported goods.
See Details
---
Dear MEOW
Playful in Seattle
In 2011, I moved back to Seattle, and when people ask me where I adopted Plato, I proudly say, "MEOW Foundation in Calgary, Alberta! That place is the best!" I wish there was a organization as professional, as caring, and as memorable as MEOW here in Seattle.
Read Full Story
Steve and Marley Cuddled in a Tree
They have decided our new couch is a great place to sleep, that or together in the scratching tree cuddled into a space they have outgrown.
Read Full Story