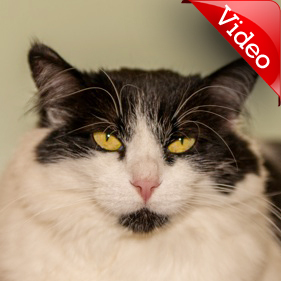 Tamia
Shy Buddy
Female, 3.3 years old

Name Your Adoption Fee - Eyes of wonder!&nbspShy Cat - Level 2&nbsp
Check out my YouTube video
Tamia is a shy beauty looking for love. Tamia is a quiet and reserved cat who would do well in a quieter home.&nbspTamia would be a good companion to another cat with a similar personality or she&nbspwould do well on her own.&nbspWhen Tamia is relaxing in one of her favourite sleeping spots,&nbspyou can&nbspquietly approach her, talk softly and&nbspthen slowly begin to stroke&nbspher cheeks.&nbspTamia just needs to feel safe and secure. Won't you give this beautiful cat her first home?
See my profile
Check out our Kitty Cam!
Wonder what the cats at our Adoption Centre get up to while waiting to find their forever homes?

Watch them live now!
See allUpcoming Events
Meet MEOW Cats at Pet Planet Saddleridge
Come on out to Pet Planet Saddleridge and meet some of the cats who are waiting to find adoptive families.
See Details
---
FREE Spay Day for Forest Lawn, Forest Heights, Southview, Erin Woods & Dover
If you live in Forest Lawn, Forest Heights, Southview, Erin Woods or Dover, you can get your cats fixed for free. Sign up May 23!
See Details
---
Dear MEOW
Twitchy Finds a Friend in Gems
Our boy Twitchy had been out of sorts since he lost his sister last summer. Since Gems moved in he's cheered up, started playing more and has finally stopped his famous "sad cat yowling".
Read Full Story
Gia Marie Makes a Friend
Marie, now known as Gia Marie, came out to see our Maine Coon Jackson and gave him a kiss right away. They are great friends already!
Read Full Story