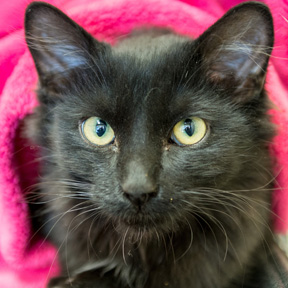 Matar
Kitten
Male, 0.4 years old

Matar is a beautiful black male kitten with huge golden eyes. As with all kittens he loves to chase moving objects and acts as if he is hunting as he skirts the edges of a room. He has a soft purr with which he communicates such desires as: treat, please; throw the ball, please; and pet me, please. Because he started out as a rather shy, skiddish guy, new situations still take time for him to feel comfortable. However, it is worth it because he loves, not only, to fetch but, also, to grab object out of the air. A small entertainment machine. Plus when he lies at one's feet to be petted, his hair is as soft as silk. Having a climber would be a great asset because his favourite activity is leaping and swinging from it like an acrobat.
See my profile
Check out our Kitty Cam!
Wonder what the cats at our Adoption Centre get up to while waiting to find their forever homes?

Watch them live now!
See allUpcoming Events
Blessing of the Animals
Mark your calendars to join MEOW Foundation at the 21th annual Blessing of the Animals Service.
See Details
---
Dear MEOW
Three's a Charm
It's been almost three months since we adopted Nappers and Sophia and we're so happy […]
Read Full Story
Zephyr is Loving Life
I often wonder if the Meow Foundation wanted to know how their adopted cats turned […]
Read Full Story