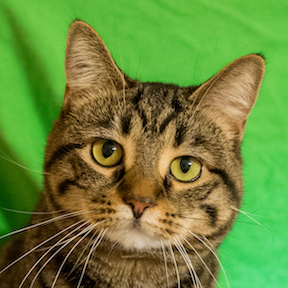 Ziti
Fun Family Cat
Female, 2.1 years old

Adopt zippy Ziti! Ziti is a endearing polydachtyl tabby. She still young enough to enjoy zipping around the house and chasing her toys, but old enough to mind her manners. She has lived amicably with other cats and is an affectionate, people oriented, lap cat in training. Come meet your match.
See my profile
Check out our Kitty Cam!
Wonder what the cats at our Adoption Centre get up to while waiting to find their forever homes?

Watch them live now!
See allUpcoming Events
MEOW Merchandise at North Hill Centre
Come visit the MEOW booth at North Hill Centre! It's a great opportunity for you […]
See Details
---
MEOW Merchandise at North Hill Centre
Come visit the MEOW booth at North Hill Centre! It's a great opportunity for you […]
See Details
---
Dear MEOW
Zephyr is Loving Life
I often wonder if the Meow Foundation wanted to know how their adopted cats turned […]
Read Full Story
Benji is Growing Up Big and Strong
My name is Kelsey. I adopted a little cow kitten named Raeed from you guys […]
Read Full Story