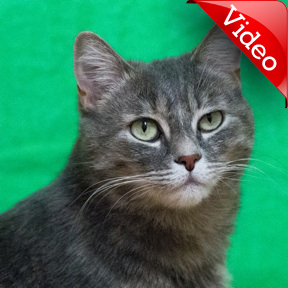 Chris
Special Needs Cat
Female, 3.8 years old

Chris needs peace and calm!&nbsp
Check Out My YouTube Video!
Poor Chris lost her home and she didn't know what to do. So she cried and cried and cried some more, until she was heard by a kind, loving person who opened her door and welcomed her in. Chris is a sensitive soul and easily frightened, so she would like to live in a home without other cats. Such a small request......are you Chris's forever match?
See my profile
Check out our Kitty Cam!
Wonder what the cats at our Adoption Centre get up to while waiting to find their forever homes?

Watch them live now!
See allUpcoming Events
Meet MEOW Cats at Pet Valu Evanston Towne Centre
Come on out to Pet Valu Evanston and meet some of the cats who are […]
See Details
---
Journey Beyond the Jungle – An Evening with Dr. Jane Goodall
Explore the relationship between humans, animals and our planet, and learn how small changes can make a big impact on our world.
See Details
---
Dear MEOW
A Shy Cat Blossoms
Misterssippi has blossomed in his new space. He is a loving and passionate fellow full of head-butts and face kisses.
Read Full Story
The Rewards of a Shy Cat
I would like to encourage people to get shy cats. The rewards are endless. Once you earn a shy cat's trust, the relationship is like no other.
Read Full Story