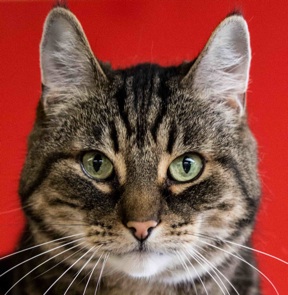 Junior

Junior is a potential lap cat who chooses his friends wisely. A striking tabby with incredible stripes, Junior loves to display his leaping skills by jumping from one high cat post to another. He has a mischeviously personality and loves to be stroked and played with.
Junior needs a companion to feel safe and secure and would prefer a predictable, relaxed home.
See my profile
Check out our Kitty Cam!
Wonder what the cats at our Adoption Centre get up to while waiting to find their forever homes?
Watch them live now!
See allUpcoming Events
Multi-Rescue Group Adoptathon
Come meet MEOW cats waiting to find their forever homes at this multi-rescue group adoptathon!
See Details
---
Calgary Marathon
Celebrate 50 years of running with Scotiabank and MEOW Foundation! Sign up to run or sponsor our team.
See Details
---
Dear MEOW
Happy with His Forever Family
Just over a year ago we adopted Rupert Bear. He was a 3-and-a-half-year-old level 1 shy cat who had spent most of his life at the Adoption Centre.
Read Full Story
Update on Misty
Thank you for saving Misty. She has become a loving part of our family.
Read Full Story