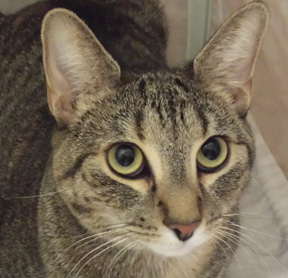 Bobbie Jo
Female, 0.2 years old

Bobbie Jo the Tomboy! Bobbie Jo is the instigator out of her sisters. She is always the first one to start a play session, and because Bobbie Jo LOVES to play - right now, she just doesn't have time to cuddle. Bobbie Jo likes to bat around balls or any toy that moves across the floor. She loves chasing her sisters too.
Bobbie Jo is polydactyl and when she holds her toys, her paws look like bit mitts. After a rough and tumble day, Bobbie Jo will curl up with her foster mom or a nap.
See my profile
Check out our Kitty Cam!
Wonder what the cats at our Adoption Centre get up to while waiting to find their forever homes?

Watch them live now!
See allUpcoming Events
Meet MEOW Cats at Pet Planet Saddleridge
Come on out to Pet Planet Saddleridge and meet some of the cats who are waiting to find adoptive families.
See Details
---
The Cat House MEOW Mixer
Come on out to Calgary's finest feline store on November 9, 2014 and receive 10% off everything in store (includes cat food).
See Details
---
Dear MEOW
Two Happy Little Rascals
A year has passed since we brought Louis and Cracker home from their respective foster […]
Read Full Story
Merlin Fits New Family's Routine
We adopted Merlin from the MEOW Foundation around the end of April 2013, and he is a great part of our family now.
Read Full Story