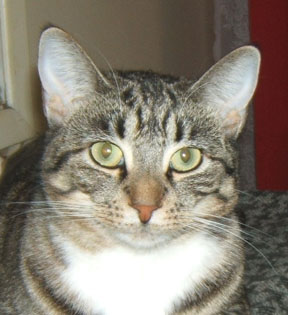 Jannike
Female, 6 years old

Ready for love! Shy Cat - Level 2 Jannike is a former mother cat whose kittens have all been adopted. Jannike did not have the opportunity to live with a family when she was young, so she is working very hard on learning the skills necessary to join a family. When Jannike feels very safe and secure, her foster mom is able to gently stroke her.
Jannike is calm and quiet and is particular about her cat toys. It seems that she is not fond of wand toys. Jannike loves to hang out with the other foster cats in the home. They love to groom each other and sleep together.
See my profile
Check out our Kitty Cam!
Wonder what the cats at our Adoption Centre get up to while waiting to find their forever homes?

Watch them live now!
See allUpcoming Events
Clothing Drive Fundraiser
Donate your used clothes & textiles and help raise funds for MEOW. Stop by The Cat House parking lot (Stadium Shopping Centre) from Sept. 15 – 26. View Event Page for times.
See Details
---
Free Wine 'n Cheese at Naughty Nelly
Stop by Naughty Nelly's for a free wine and cheese event supporting MEOW Foundation and check out all of their unique artisan and imported goods.
See Details
---
Dear MEOW
Playful in Seattle
In 2011, I moved back to Seattle, and when people ask me where I adopted Plato, I proudly say, "MEOW Foundation in Calgary, Alberta! That place is the best!" I wish there was a organization as professional, as caring, and as memorable as MEOW here in Seattle.
Read Full Story
Steve and Marley Cuddled in a Tree
They have decided our new couch is a great place to sleep, that or together in the scratching tree cuddled into a space they have outgrown.
Read Full Story