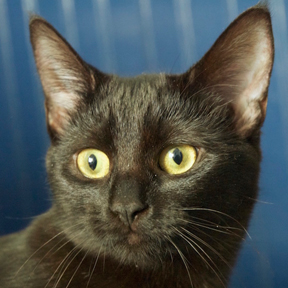 Lucille
Tween Kitten
Female, 0.6 years old

I Love Lucy! And you will too! Lucille is a sweet and gentle little girl who is playful and very affectionate. She loves to tumble around with her foster friend, Rickie, and they both love to hunt the laser pointer! Self-directed play is no problem for Lucille when there is a fun mouse or bouncy ball to chase about! In her foster home, she was swiftly accepted by even the grumpy cat - she's so polite and easy going that no one can resist her! Lucille LOVES to be near her humans, and once some of her kitten energy starts to wear off she'll likely be a real lap-cat!
*Lucille's brother, Rickie, would love to go to a home with Lucille. If you are interested in adopting Lucille and Rickie, MEOW will waive Rickie's adoption fee.
See my profile
Check out our Kitty Cam!
Wonder what the cats at our Adoption Centre get up to while waiting to find their forever homes?

Watch them live now!
See allUpcoming Events
Meet MEOW Cats at Pet Valu Evanston Towne Centre
Come on out to Pet Valu Evanston and meet some of the cats who are […]
See Details
---
Journey Beyond the Jungle – An Evening with Dr. Jane Goodall
Explore the relationship between humans, animals and our planet, and learn how small changes can make a big impact on our world.
See Details
---
Dear MEOW
Gia Marie Makes a Friend
Marie, now known as Gia Marie, came out to see our Maine Coon Jackson and gave him a kiss right away. They are great friends already!
Read Full Story
A Shy Cat Blossoms
Misterssippi has blossomed in his new space. He is a loving and passionate fellow full of head-butts and face kisses.
Read Full Story