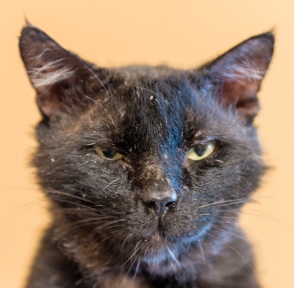 Dustin
Fun Family Cat
Male, 8.2 years old

Name Your Adoption Fee.
Dude, what happened to your head? Dustin's head is lacking some fur and his scalp is full of scars and scratches. Dustin used to be a typical tom cat before he was recently neutered at MEOW. Spring is in the air and he was doing what tom cats are meant to do - define and defend your territory and look for the girls. Nature is quite simple, but Dustin must have been in some terrific scraps and scrapes. He may look a bit odd, but he is a wonderful cat. Give him a few months and he will be back to his handsome self. Come meet Dustin.
See my profile
Check out our Kitty Cam!
Wonder what the cats at our Adoption Centre get up to while waiting to find their forever homes?

Watch them live now!
See allUpcoming Events
Meet MEOW Cats at Saddleridge Pet Planet
Come on out to Saddleridge Pet Planet and meet some of the cats who are waiting to find adoptive families.
See Details
---
MEOW Foundation Garage Sale
Join us as we raise funds to renovate our new adoption centre. There will be thousands of items for sale from home décor, appliances, tools and much more.
See Details
---
Dear MEOW
Echo's Strong Bond!
I adopted Belladonna, now Echo, at the beginning of May. We've built up a strong […]
Read Full Story
June Bug the Love Bug!
We still call her June Bug, but Kat decided she really is a Love Bug too, and sometimes Miss Bug. I call her just Bug sometimes cause she loves to get her nose into everything. So Bug being the common denominator.
Read Full Story