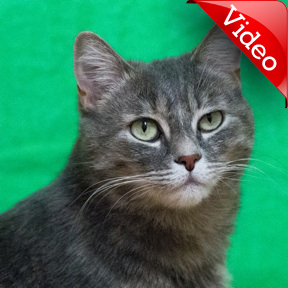 Chris
Mature Cat
Female, 5.9 years old

Chris needs peace and calm!
Check Out My YouTube Video!
Poor Chris lost her home and she didn't know what to do. So she cried and cried and cried some more, until she was heard by a kind, loving person who opened her door and welcomed her in. Chris is a somewhat sensitive and high strung soul, who really needs someone who understands cats like her. Chris is affectionate, but more on her terms and she sometimes forgets her manners. Chris would do best in a home that is calm and quiet with a more predictable routine.
See my profile
Check out our Kitty Cam!
Wonder what the cats at our Adoption Centre get up to while waiting to find their forever homes?

Watch them live now!
See allUpcoming Events
2017 Lilac Festival
Visit our booth at Lilac Festival and stock up on all your favourites as well […]
See Details
---
2018 Marda Gras Street Festival
Come join us at the Marda Gras Street Festival. We'll be selling cat toys and […]
See Details
---
Dear MEOW
Three's a Charm
It's been almost three months since we adopted Nappers and Sophia and we're so happy […]
Read Full Story
Zephyr is Loving Life
I often wonder if the Meow Foundation wanted to know how their adopted cats turned […]
Read Full Story