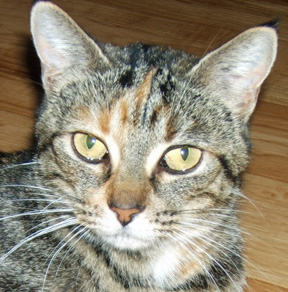 Manka
Fun Family Cat
Female, 2.2 years old

Manka is a very easy-going cat. When she arrived at her foster home, Manka felt comfortable right away. It was like she had always lived with them. She is a relaxed laid back cat. Manka gets along very well with other cats too. She loves to be pet and to be picked up and cuddled. She's a very loving and doting momma, always snuggling her kittens. Manka is also very affectionate with her human companions! Come meet Manka today!
See my profile
Check out our Kitty Cam!
Wonder what the cats at our Adoption Centre get up to while waiting to find their forever homes?

Watch them live now!
See allUpcoming Events
Meet MEOW Cats at Pet Valu Evanston Towne Centre
Come on out to Pet Valu Evanston and meet some of the cats who are […]
See Details
---
Meet MEOW cats at Country Hills Pet Planet
Come on out to Country Hills Pet Planet and meet some of the cats who […]
See Details
---
Dear MEOW
When a Shy Cat Became Rogue
Hello! I realized that it's been about 18 months since we brought Mali home. She […]
Read Full Story
Agatha Celebrates Six Months with Her New Family
Agatha is celebrating 6 months in her fur-ever home. Now that she knows this is […]
Read Full Story