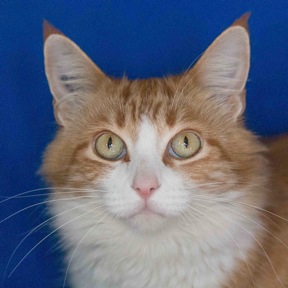 Terri
Female, 2.1 years old

A lady in waiting! Terri's start in life was not exactly the stuff dreams are made of. Terri was left to fend for herself in some horse stables. Then came the kittens....Terrri was a devoted mother, but she sure appreciated MEOW's helping hand in rescuing the little ones also. Today, her life is on the upswing and she is patiently waiting to go Home 4 the Holidays.
*Terri has been sponsored by two (2) Christmas Guardian Angels.
See my profile
Check out our Kitty Cam!
Wonder what the cats at our Adoption Centre get up to while waiting to find their forever homes?

Watch them live now!
See allUpcoming Events
Spruce Meadows International Christmas Market
Come on out and enjoy beautiful Spruce Meadows! Visit the MEOW booth for all your favourite feline and human gifts, and peruse this incredible marketplace!
See Details
---
Christmas Party for the Cats
Join us for light refreshments, door prizes, and lots of wonderful merchandise to purchase for your favourite human and feline friends.
See Details
---
Dear MEOW
Loving Our New Mom & Dad
Mom lets us sleep with her. My sister usually sleeps cuddled up beside Mom but I prefer to sleep on top of her (I'm sure she is cold and needs to be kept warm). We also bring her toys throughout the night so that she has presents to wake up to in the morning.
Read Full Story
Two Happy Little Rascals
A year has passed since we brought Louis and Cracker home from their respective foster […]
Read Full Story