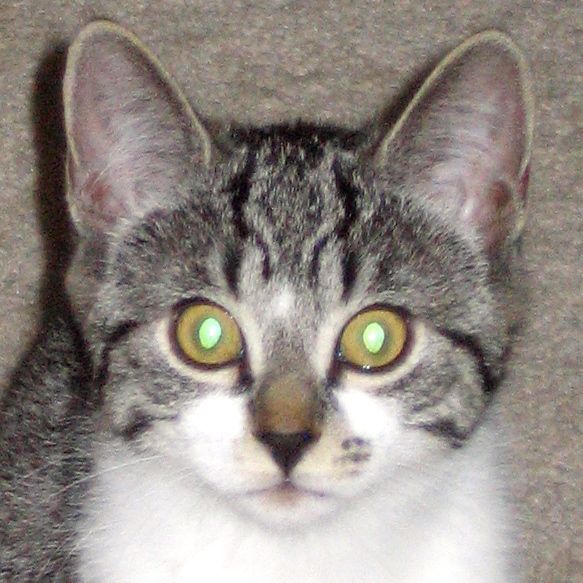 Kestral
Female, 1.5 years old

NAME YOUR ADOPTION FEE - Shy Cat Level 3 - Kestral Loves Kitties and Playing! Kestral is a reserved little lady due to her tough start in life. But, one thing Kestral loves is to play. Playing with a wand toy, her foster home's resident cats, and of course climbing, are some of her favourite past times. Kestral also has an independent side, where she can often be found frisky and playing with a toy all by herself. She is always close at hand and will take snacks, but is still cautious.
In her new home, Kestral will need a companion to help her feel safe and secure. She is particularly close with her mom Kisa, but also loves the foster home's resident male cat. She would make a wonderful companion for a cat looking for someone to adore them!
See my profile
Check out our Kitty Cam!
Wonder what the cats at our Adoption Centre get up to while waiting to find their forever homes?

Watch them live now!
See allUpcoming Events
Meet MEOW Cats at Pet Planet Saddleridge
Come on out to Pet Planet Saddleridge and meet some of the cats who are waiting to find adoptive families.
See Details
---
The Cat House MEOW Mixer
Come on out to Calgary's finest feline store on November 9, 2014 and receive 10% off everything in store (includes cat food).
See Details
---
Dear MEOW
Two Happy Little Rascals
A year has passed since we brought Louis and Cracker home from their respective foster […]
Read Full Story
Merlin Fits New Family's Routine
We adopted Merlin from the MEOW Foundation around the end of April 2013, and he is a great part of our family now.
Read Full Story